Flyers & Brochures
Choose from traditional flyers or multi-page brochures that can showcase a property listing.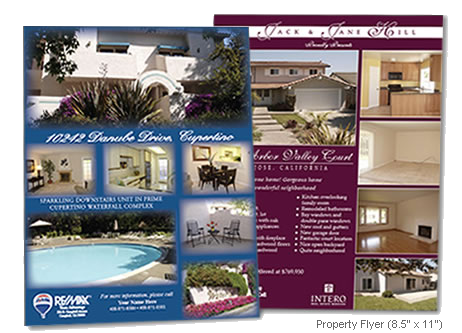 With exceptional design and presentation our color Flyers & Brochures are sure to impress any real estate property listing. Using digital laser technology these flyers are printed with astonishing color transitions and sharp clean edges to produce high quality prints on laser paper or glossy card stock.
Available Sizes:
8.5" x 11" Flyers 1 or 2 Sided - Laser or Card Stock
11" x 17" Brochure 2 Sided - Laser or Card Stock
(Design is included with full color printing)
---
Priced as low as $88
50 - Single-Sided Color Property Flyers (8.5" x 11")
Postcards
Send out postcards to market the homes you represent to a mass audience.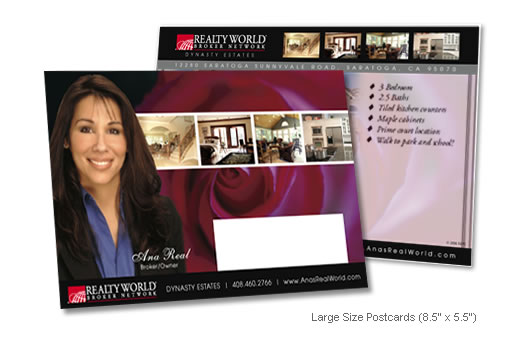 Perfect for getting the word out...FAST. Use our creatively designed postcards to help market your property to its full potential. We offer clean designs with a variety of colorful cardstock that are sure to meet your needs. One or two sided, Black & White or full color...no problem.
Available Sizes:
8.5" x 5.5" Large Size Postcards
5.5" x 11" Jumbo Size Postcards
---
Priced as low as $30
200 B&W Large Size Postcards (8.5" x 5.5 ")
Posters
The perfect presentation with a glossy color poster matted on a foam core board.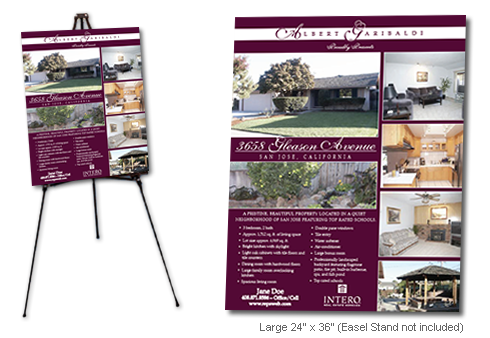 REPS specializes in high quality poster printing. As a poster printer, we have been printing large posters at 300 line screen for years. Our full color waterless process delivers unsurpassed results. We believe in the product and know that once you see our full color poster printing at 300 line screen, you won't settle for anything less - the colors literally pop off the page.

We are eager to earn your business and offer many poster printing services - full color poster printing, two color poster printing, large format poster printing, and can even offer a quote for your custom poster project.
Available Sizes:
24" x 36" - Print only*
24" x 36" - Print/Mount on Foam Board/Laminate*
*Easel Stand not included
---
Priced as low as $35
Print only (24" x 36")
Virtual Tours by TourFactory
More than a pretty picture. Perfect for online representation of the homes you sell.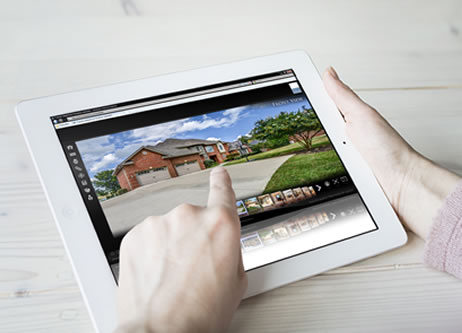 Our virtual tours platform can help you sell listings for more money. Delve inside with professional architectural photography, detailed information sections, 3D models and floor plans, videos and drones; all on a 24 hour, 7 day a week platform. This will help people make decisions more quickly, conveniently, and confidently.

TourFactory Virtual Tours provide you with stunning, professionally prepared tours that will impress your clients.
---
Virtual Tours with architectural photography!
Everything you need to win more real estate listings!
Mailing Services
We offer you the power of Direct Mail to get your message across.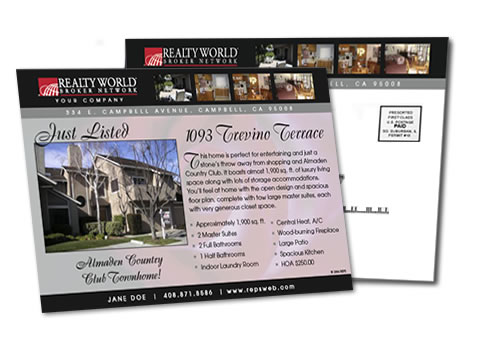 At REPS you can expect a convenient and affordable mailing service. Utilizing our state of the art mailing facility, we offer a mailing solution that is cheaper and easier than doing it yourself. Not only do you save money by paying discount postage rates, but you save time by not dealing with messy labels, stuffing envelopes or other time consuming procedures.

Combine our mailing service with REPS's fast postcard printing services, and you'll save time and money on your next postcard mailing project.
---
Available Services:
Letter-fold Self Mailers
Real estate Report Mailers
Envelopes
Call REPS today at (408) 871-8586.
Professional Photography by TourFactory
Blow away your competitors with professional photographs from TourFactory!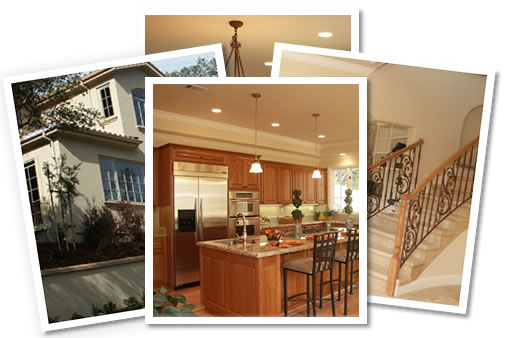 If you want your property to really stand out from the crowd, you need to make it as attractive as possible. The best way to do this is by having it professionally photographed.

With TourFactory, enjoy access to the largest National Network of Certified Architectural Photographs anywhere! Showcase your property listings to their full potential. Whether it be a small or large home, exclusive or cozy, or even an apartment; TourFactory will dedicate the same time and attention to create perfect photos for all of your listings.

Get the WOW factor with professional real estate photography services, your homes will look their best every time.
Design Services
We provide template or customized design to bring your business philosophy to life.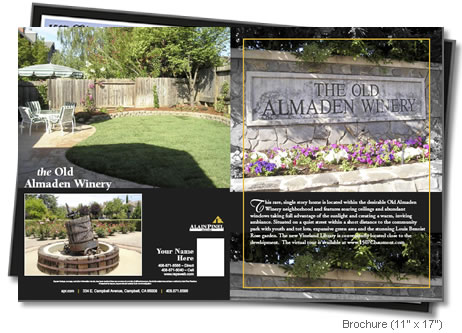 You needn't pay big design agency rates for distinctive, effective & affordable business and corporate design. Logo design, business cards, stationery, corporate identity, brochure design, promotional materials & sales literature - whatever your business design requirements, REPS has the talent to provide a full design for print service.

For questions, speak directly with one of our friendly staff members.


Call today (408) 871-8586