Approach
Real Estate Promotional Services (REPS) was launched in December of 1997 by two former employees of the Cornish & Carey Residential in-house marketing department. Since then we have grown to a full-service marketing company supplying customized design and printing/mailing services for real estate professionals in Northern California. In 2000, we purchased the printing unit of Opticom Corporation, a highly respected real estate industry vendor. With the merging of REPS and Opticom, a new level of service was offered to agents which focuses on quick turnaround and quality printing at an affordable price.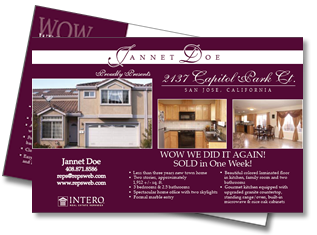 At REPS we're committed to your satisfaction until the job is done just right. We've found that the best way to deliver consistently satisfying, high-quality solutions is by offering our clients high-quality service and value at a reasonable price.
Simply put, when you enter into a relationship with REPS you're connecting with a service and support business that's totally committed to you. Rather than selling you the pieces we produce, we'd like to think of selling you the value of our services.
Working with REPS is far easier, much faster, and typically more cost effective than your alternatives.
Here's how it's done...
Fill out our online web order for the product/service you want or if you're comfortable with faxing, just download one of the printable order forms on this site. We also accept email orders from current clients.
Submit your order form to REPS. Within 24 hours we will either fax you a draft of your product or contact you for clarification and approval before we begin.
When you receive your first proof (via fax machine or email), make the desired changes (or mark "Approved" on the accompanying approval form) and fax the sheet(s) back to REPS. We will not print or deliver your order without written approval.
After we receive your approval, your project will then be printed and ready for pick-up, free delivery, or shipped directly to your office.